Liquor
Due to regulation liquor must be order with food. ID must be present upon pick up or delivery. Failing to present the ID may result in order cancelation.
Choice of White Wine
1 Bottle
Choice of Red Wine
1 Bottle
EDAMAME
Steamed soybean your choice of sea salt, garlic sauce, or spicy sauce
ROCK SHRIMP
Shrimp tempura Yuzu mayo sauce
LETTUCE WRAP
Ground chicken, onion, mushroom, water chestnuts
SATAY CHICKEN 3 PCS
Grilled chicken skewers served with peanut sauce
BACON ASPARAGAS
Dip with Japanese mayo
DUMPLING 4PCS
shumai (shrimp and pork), gyoza (pork)
HAM CHEESE SPRING ROLL 3 PCS
SHRIMP AND MIX VEGETABLE TEMPURA
shrimp (3) and vegetable tempura served with tempura sauce
FRIED IDAKO
tempura baby octopus
BLANKET SHRIMP
Crisypy shrimp wrapped in spring roll wrapper
ROCK LOBSTER
Crunchy and flavorful deep fried lobster appetizer
COLD TAPAS
Cold Appetizers
TUNA TATAKI
Seared sliced tuna, seed, scallion, ponzu sauced
TUNA TARTAR
Ahi tuna, masago, guacamole over wonton chips
BEEF TATAKI
Thinly sliced beef, cilantro, scallion, and truffles oil
HAMACHI JALAPENO
Thinly sliced yellowtail, jalapeño, and ponzu sauce
SALMON TIRADITO
Thinly sliced salmon, pear, jalapeño
PLA SALMON
Thinly sliced salmon, spicy Thai hot sauce
LAB TUNA
Tuna roasted rice cilantro shallot, mint leaves, lime juice, Thai chili powder
TROPICAL PARADISE
Sliced tuna, cherry tomato, mango, garlic, chef special sauce
MINI CRISPY BITE
Crispy rice, spicy tuna, scallion, masago, tobiko truffle oil
UZUSUKURI
Thinly sliced variety fish with ponzu sauce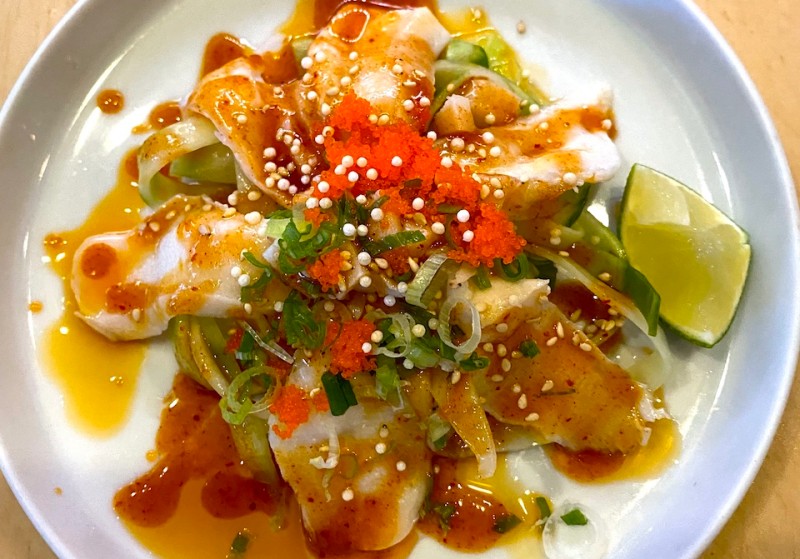 SPICY OCTOPUS
Octopus over sliced cucumber, masago with kimji sauce
SUNOMONO
Conch, masago, octopus over sliced cucumber with rice vinegar
SOUP
TOM YUM SOUP
Mushroom, scallion, lemon juice, lemongrass broth
TOM KHA SOUP
Mushroom, scallion, coconut milk, lemon juice, lemongrass broth
CARROT SOUP
Creamy carrot soup
WONTON SOUP
Chicken wonton, cilantro, garlic, snow peas, bean sprout & scallion in vegetable broth
Salad
SPICY TUNA SALAD
Diced raw tuna, avocado, scallion, masago, spicy sauce on a bed of spring mix
SEAFOOD / DUCK SALAD
Seafood (shrimp scallop squid) or duck, onion, Thai chili lime dressing
SPICY BEEF SALAD
Grilled beef sliced, tomato, cucumber, onions, cilantro, lettuces, chili lime dressing
AVOCADO CRAB SALAD
Avocado crab salad with ginger dressing
I'M SO SOFT
Soft shell crab with mango sauce
Rolling Maki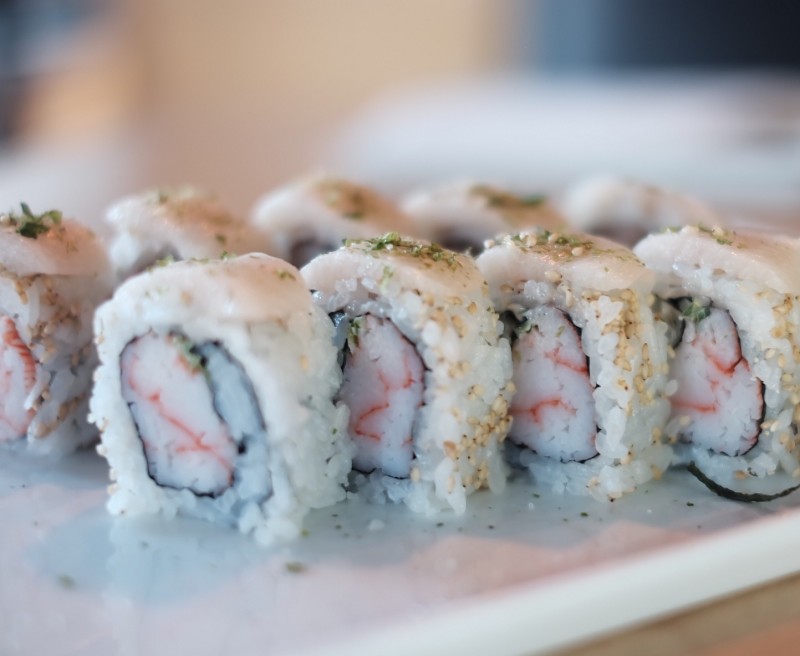 FLORIDA ROLL
Crab, yuzu sauce, hamachi on top
BEG FOR MORE
Pear, asparagus, avocado, top with rock shrimp, chop tuna, truffle oil, tobiko
OUTSTANDING
Hamachi, tamago, cream-cheese on top with beef tataki
TASTE LIKE MY EX-GIRLFRIEND
Tuna, hamachi, flake, asparagus, top with local Thai and Japanese chili (be careful the highest level of spicy, and of course we don't return with any ex )
SWEET 16
Tuna, mango, cilantro, masago, kimchi sauce
TO DIE FOR
BBQ eel, grape, cream-cheese, inside out top with crispy salmon skin
BAY VIEW
Cook salmon, cream-cheese, asparagus, tempura flake, top with seared salmon, mayo
AGAIN AND AGAIN
Shrimp tempura, masago, tamago, cream-cheese, cucumber, eel on top
FAT ASS
Salmon tempura, crab-stick, asparagus, cream-cheese, no rice deep fried whole roll, crispy bacon on top
THE KISS OF FIRE
Shrimp tempura, bell pepper, avocado, masago on top with chop tuna crispy rice
RISING SUN
Pear, apple, mango, masago, top with dynamite (bake seafood)
PICASSO
Tuna, hamachi, avocado, scallion flake, tobiko, serve with ponzu sauce
DOUBLE DOWN
Shrimp tempura, avocado, asparagus, masago, on top with steamed shrimp
HOT HAMACHI
Hamachi, cilantro, cucumbers, jalapeño
SCORPION KING
Soft shell crab, avocado, asparagus scallion, masago, double wrap with thin sliced cucumber
CRUNCHY SPICY TUNA
Spicy tuna, avocado flake inside out tuna on top
SUMMER TIME ROLL
shrimp tempura, masago, avocado, tuna, krab inside out sliced avocado and krab on top served with spicy mayo, eel sauce
AUTUMN ROLL
tuna ,crab, white fish, apple top with spicy salmon and potato chips, sweet and hot sauce on top
DONALE AND MARIA ROLL
shrimp tempura, cream-cheese, bbq eel, tuna tataki, masago on top with eel sauce and spicy mayo
DELIGHT FULLY ROLL
spicy tuna, cream-cheese, avocado, jalapeño deep fried with sweet and hot sauce
NEVER ENDING ROLL
spicy salmon avocado, cream-cheese, tempura flake masago wrap with soy paper tuna on top, sriracha
MONKEY BANANA ROLL
Shrimp tempura, avocado, asparagus masivo out side on top with plantain
GOKU
(NEW) SO YUMMY! Super-Special-Extra salmon, tamago, cream cheese and top with crab salad.
LOBSTER ROLL
Lobster tempura avocado inside out masago with spicy mayo and eel sauce
Back to Basic Roll
JB ROLL
Salmon cream cheese scallion
VOLCANO ROLL
California roll on top with bake seafood
BUTTER FLY
Inari tofu, avocado, cucumber, mix green, kampyo
SPICY TUNA
Spicy tuna jalapeño hot sauce
No Rice
NARUTO MAKI
Choice of salmon or tuna avo, crab, wrap with cucumber
SASHIMI ROLL
Salmon tuna white fish masago, asparagus avocado wrap with cucumber
NAKED ROLL
Spicy tuna, avocado, tempura flake, wrap with rice paper and orange on top
SKINNY GIRL ROLL
Soy paper wrap with crab salmon, tuna, white fish, grape
THAI FRESH ROLL
Spring mix carrot lettuce noodle, steamed shrimp and chicken wrap with rice paper
Entrees
BEG FOR MORE FRIED CHICKEN
Signature house fried chicken with crispy Thai herb serve with papaya salad and sticky rice
THE FAMOUS RED CURRY
Red coconut milk, bamboo shoots, bell pepper, Thai basil
GREEN CURRY WITH ROTI
Green coconut milk, eggplant, bamboo shoots Thai basil serve with roti
MASSAMAN CURRY
Yellow coconut milk, onion carrot potato, cashew nut top with sliced avocado
THAI STYLE BASIL CHICKEN
We cook for you like mom cook for us, ground chicken, basil leaves, onions, bamboo shoots
1988 CHICKEN CASHEW NUT
Authentic style cashews nut, fried chicken, onion, scallion, bell pepper
SEAFOOD IN GARLIC SAUCE
Shrimp scallops calamari mussel sautéed with garlic sauce on a bed of mix vegetables
ORANGE DUCK
Crispy duck in orange sauce
SALMON TERIYAKI SAUCE
Grilled salmon on a vegetable bed with teriyaki sauce
TONKATSU
Fried pork chop breaded with flour, egg, and panko breadcrumbs
GRILLED TILAPIA WITH GINGER SAUCE
mushroom, onions, scallion, bell pepper, carrot
DUCK WITH RED CURRY
crispy duck with famous red curry sauce
MIX VEGETABLE
choice of chicken, pork, beef, seafood (extra 6) sautéed mix vegetable with brown sauce
EBI TEMPURA SET
shrimp (5) and vegetable tempura served with tempura sauce
RED CURRY WITH LOBSTER
The combination of succulent lobster with hit of spice and coconut milk
Noodle
DRUNKEN NOODLES
Spaghetti noodle, mushroom, pepper. MUST TRY !!!
PADTHAI
Rice noodle, egg, scallion beansprouts, ground peanut
PAD SE EAW
Fresh flat rice noodle, egg, broccoli, brown sauce
CLEAR NOODLE SHRIMP
egg, carrot, onion, mushroom, celery, cabbage, snow-pea
KHAO-SOI KAI
A famous Chiang-Mai noodle soup combines chicken drumstick in coconut curry broth with boiled and fried noodles. Our version is the real deal like straight from the streets of Chiang Mai!
LOBSTER PADTHAI
Authentic Padthai with lobster tail
Grain of Thrones
PINEAPPLE FRIED RICE
shrimp, chicken, carrot, green pea, egg, chunks of pineapple top with cashew nut, dry pork
SPECIAL FRIED RICE
Chicken pork beef and shrimp, egg, onion, carrot, pea, scallion, tomato
KIMCHI FRIED RICE
Wok-fried rice blended with egg, korean pickles, bacon, scallion
KATSUDON
A deep fried pork cutler, egg, over rice
TEKKA DON
Sliced spicy tuna over sushi rice
UNAGI DON
sashimi eel over sushi rice
Sides
HOUSE SALAD
(choice of dressing ginger, peanut)
Dessert
Thai donut
Thai donut with condense milk and peanut
Fried banana with ice cream
Mango with sticky rice
Thai tradition dessert
Tempura ice cream
Best Fried Vanilla Ice Cream in town!! Must try!!
Fried cheese cake
This deep fried cheesecake recipe is crispy on the outside and creamy on the inside.
Moji ice cream
Mochi ice cream is a confection made from Japanese mochi with an ice cream filling
(NEW) Thai Coconut Ice Ice-cream
Made of real coconut milk, serve with crushed peanut.
Thai Coconut Ice cream with Mango
Drink
Lychee ice tea
Sweet Lychee tea
Japanese soda
Fruit flavor
Acqua Panna Natural Spring Water
500ml glass bottle
San Pellegrino
500ml oz glass bottle